I've been MIA for a couple of days... or weeks, idk. I've been quite busy with school requirements and exams. I'm done with the 3rd/6th LE though I still have OSCE tomorrow and final exams next week. I'm just breaking this blogging hiatus for my sanity's sake.
Quick trips to SM Savemore have been quite de-stressing for this week. JSYK, I live very conveniently near Savemore--practically a 2-elevator ride to a supermarket. These have been my favorite buys, but not exactly must-haves:
Kitchen88's Puree Soup in Chinese Hot and Sour and Tom Yum Mushroom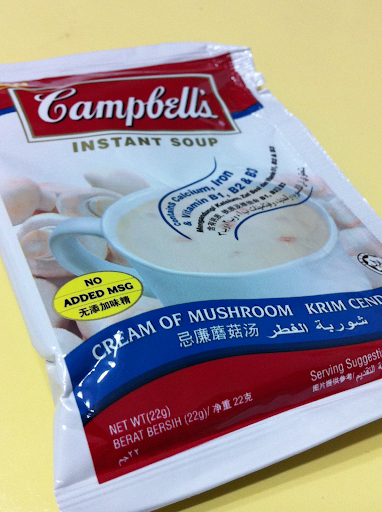 Campbell's Instant Soup in Cream of Mushroom
I am a sucker for instant food since I am both busy and lazy to cook. They taste like the real thing! Kitchen88's Puree Soups have been part of my dinner for 2-3 consecutive nights now. Heh. They're quite pricey (Php 79) since they are imported from Thailand. Campbell's Instant Soup are cheaper. Both are very easy to prepare--just add hot/boiling water. How awesome is that.
Villar's Dark Chocolate with Coffee
Chocolate and coffee in one! Need I say more? That's dark chocolate with coffee crispies.
Selecta's Hershey's Ice Cream Collection-Reese's Peanut Butter Cups
Photo from here
Reese's Peanut Butter Cups is among my favorite chocolates. Imagine that in a chocolate ice cream. The ice cream is actually of Hershey's cocoa. I finished eating this in one sitting-or maybe two. Heh.
Tostito's Chunky Salsa
Photo from here
The perfect partner for Tostito's Tortilla Chips!